Dept. of Computer engineering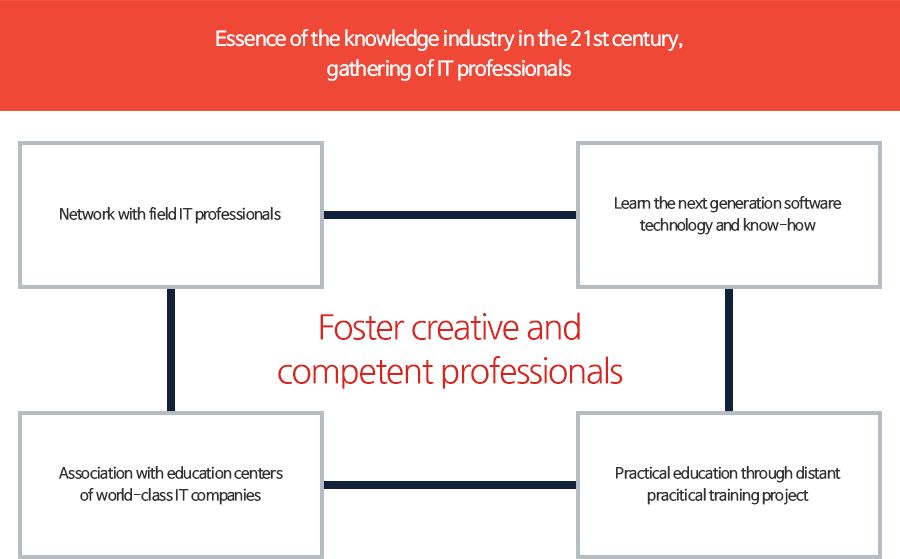 Customized education to foster competent talent
We provide the latest professional knowledge, technical education, and practical education applicable to various fields and high class education that foster the best talent in the best educational environment.
Human network
97.6% of students are engaged in the IT industry. Interaction between current students and alumni at active local gatherings / club participation enhances an enormous IT human network comprised of more than 1600 people.
Development of a new educational program
We support information sharing through developing short-term education courses and the introduction of applied technology.
Curriculums associated with renowned global IT enterprises
We provide professional courses of System Engineer (MCSE), Network Engineer (CCNA), Oracle Database (OCA, OCP), Information System Audit (CISA),Information System Security (CISSP), Project Management (PMP), Service Oriented Architecture (SOA), Enterprise Resource Planning (ERP)
Specialized professional courses

Professional courses for Information and Communications
Data Protection and Application Service Technology
Related certificates

Microsoft : MCSE, MCSA, MCAD/MCSD, MCP
ORACLE : OCA, OCP
Information security : SIS, CISA, CISSP
CISCO : CCNA, CCNP, CCIE
PMI : PMP
Future career

Work at IT/Communications company
information communication work and security development / management / various operation fields
network configuration / maintenance
advance to a graduate school to have a wider career spectrum