Dept. of Media image
Contemporary society speaks and expresses itself through media. As media develops, the ability to express oneself through media can be a competitive edge.
In particular, as new media emerges and advances, the need for talented individuals in this industry is increasing. SDU's Department of Media Image teaches various media-related theories and gives on-the-job training on motion pictures, broadcasting, computer graphics, filming and editing, based on the understanding of the rapidly changing media environment. We strive to train our students to be the best in media with a abroad knowledge base and know-how conveyed by professionals in each area of media.
Vision

Characteristics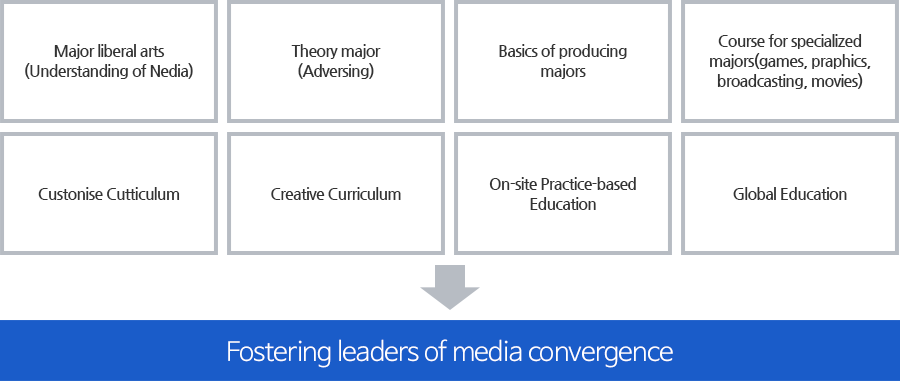 The only comprehensive media department among online universities
The first online university with a media department, having produced more than 700 graduates.
Specialized curriculum on movie, broadcasting and graphic image
Our curriculum comprises of theory and the basics of visual media with specialized courses including movie media, broadcasting and graphic image run by our highly experienced faculty members. Specialized courses provide an effective education helping students to accumulate expertise knowledge. In particular, in the graphic image course, students can acquire a certificate by completing certified courses approved officially by Adobe.
Various online teaching methods and specialized content
We deliver effective education using various teaching methods such as expert interviews, off-line lectures, and field inquiry.
Moreover, workforces of abroad production companies like Weta and Sony conduct lectures in person to foster competent global leaders.
Most up-to-date network
There is a huge human network with broadcasting company and cooperative institutions in fields ofmedia image including KBS, MBC, Media Job, Media Tong,Korea Creative Content Agency, and the Korean Culture and Arts Foundation.
High graduate school entrance rate
The SDU Dept. of Media Image has a high graduate school entrance rate.
Our students have successfully been accepted to renowned national and international graduate schools including Sogang University, Korea University,Hongik University, Brunell of UK, and AAU of the US. Also, alumni of the SDU Dept. of Media Imagemaintain active interaction with each other in those schools.