The SDU Dept. of Practical Music is lead by top-class faculty which is comprised of graduates of renowned graduate schools including Berkeley College of Music, University of Miami, New York University and highly experienced professionals on the Korean and international music scene. Our curriculum is designed and managed by our top class faculty.
Opportunities offered by the SDU Dept. of Jazz & Contemporary Music
- Earn a bachelor's degree after completing our 4-year curriculum (2 years for 2nd year transfer students)
- Since all courses are 100% online, students can view the lectures whenever and wherever during the term.
- A huge space (330㎡) comprised of practice rooms for individuals and bands
will be made at the basement of the school building exclusively for the use of the Dept. of Jazz & Contemporary Music.
All students of the SDU Dept. of Jazz & Contemporary Music can utilize this space acording to the procedure.
- Students can have conversations with professional musicians in regular special lectures held every semester.
- Students can experience and perform on the stage through regular student jam sessions and annual concerts.
- Participate in various student clubs to improve your capacity and share your musical inspirations.
Realize your dream of becoming a musician here at the SDU Dept. of Jazz & Contemporary Music
Curriculum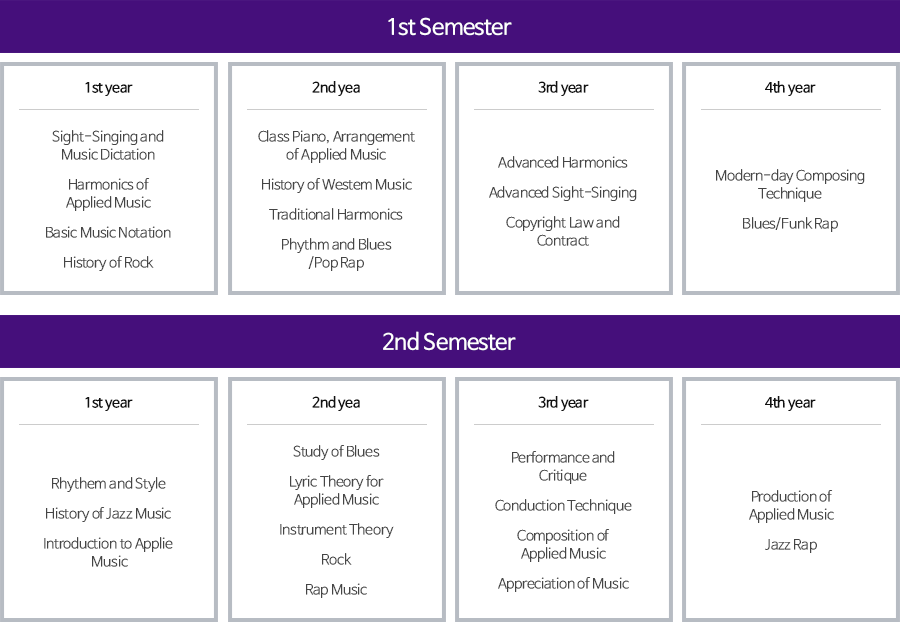 Future career