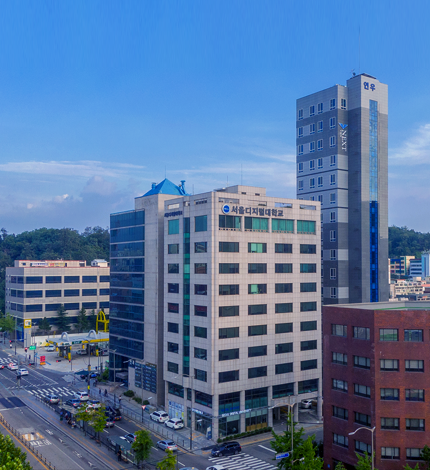 In the 21st century A full-fledged
online training Age is open.
Due to the development of information technology, the amount of information andthe speed of sharing it have increased. In order to respond to the change of society and tosurvive in the competition, constant learning became essential. Accordingly, there wasa demand for an education system that suits the concept of lifelong education whichbrought the rise of cyber university such as Seoul Digital University.

Seoul Digital University has been faithful to the role and the duty as
the leading cyber university of Korea and has shown a remarkable growth in short period of time.

Especially, Seoul Digital University is armed with high-quality education contents,
excellent faculty and the largest student body. We have been constantly trying to
improve student service and to make our university specialized by reorganizing the curriculum.

As a result of such effort, Seoul Digital University has become the nation's best cyber universityshowing the best performance in student satisfaction and competition rate, etc.
SDU is also gaining global stature through cooperative exchanges with foreign universities.

Seoul Digital University will continue to develop beyond being Korea's best cyber university and will
step up to become the world's best. Furthermore, we will help students to develop their potential to
the utmost by grafting the new technology onto education. We are confident that the moment you
graduate our university you will be a qualified professional desired by the society.

Build your future with endless opportunities and potentials with Seoul Digital University. Thank you.