Dept. of Tax Accounting
SDU Dept. of Tax Accounting, having produced the first online university's CPA and the youngestexaminee to pass the primary exam of the Korean CPA test,
is making its utmost effort in fosteringthe best experts in accounting and finance. The faculty is comprised of the nation's first ratespecialists.
Also, we manage a practical curriculum to acquire professional certificates such asa CPA in Korea and the U.S, tax accounting, and Chartered Financial Analyst.
In particular, studentscan earn credits while preparing for KICPA, AICPA and EA and various prep-courses are scheduled asregular curriculum; thus, academic growth and preparation for exams can be completed simultaneously.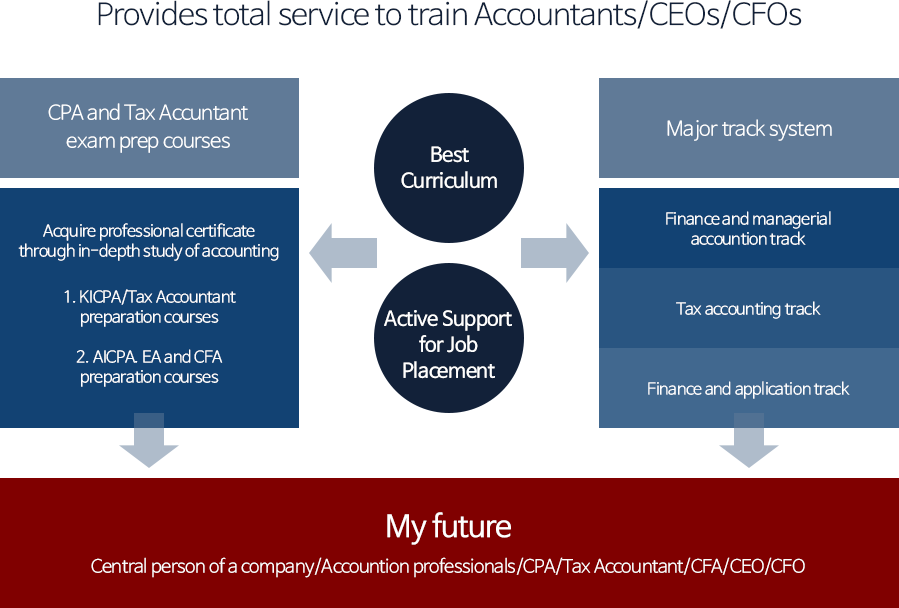 Best Curriculum
Active Support for Job Placement
CPA and Tax Accountant exam prep courses
Acquire professional certificate through in-depth study of accounting
1. KICPA/Tax Accountant preparation courses2. AICPA EA and CFA preparation courses
Major track system
Finance and managerial accountion track
Tax accounting track
Finance and application track
toMy future: central person a company/Accountion professionals/CPA/Tax Accountant/CFA/CEO/CFO
Student Activities
Online Activity

Provide an online learning environment to maximize educational effects
Self-directed learning, feedback after weekly tests and learning,continuous feedback through Q&A
Lectures based on the performance of the education, support repeated learning of lectures, provide a teaching plan, MP3 lecture files and Smartphone lectures

Off-line Activity

Local gatherings & Cultural events

Special lectures by renowned scholars from inside and outside
Acquire knowledge beyond the regular curriculum

Special Lectures

Smooth communication through local gatherings and regular cultural activities

Study groups/Student club

Study groups preparing for CPA, Tax accountant, etc