Dept. of Software engineering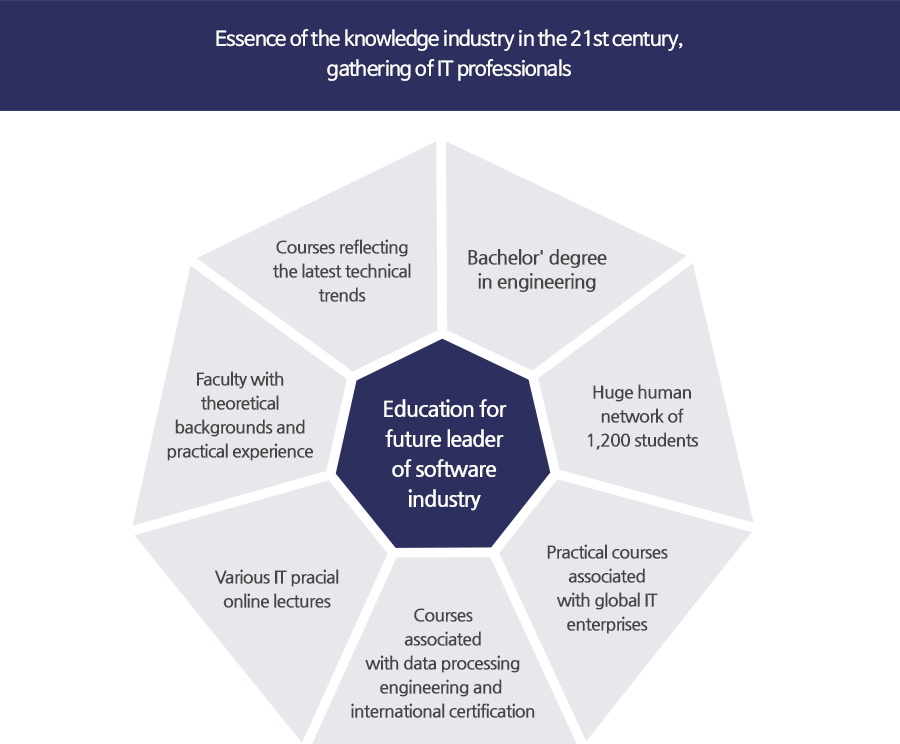 Bachelor's Degree in Engineering
A 'Bachelor of Engineering' is granted to students with full time enrollment of 4 years and 140 acquired credits
Characteristics
Gigantic IT network of 1,200 students
87.6% of current students are engaged in the IT field
Various community activities between current students and alumni
Active regional gatherings and clubs
Practical demand-oriented courses associated with global IT businesses (Oracle, Microsoft)
Issues education certificates
Provides an online practical training environment from the Oracle Academy and Microsoft IT Academy program
20~30% vouchers for international certificate exams
External scholarships
Courses associated with data processing engineering and international certification
ORACLE : OCA / OCP
Microsoft : MCSE / MCSA / MCAD / MCP
Data processing engineer : Database , Computer architecture, OS, software engineering, Data communications
Industrial Engineer Information Processing : Database , Computer architecture, System analysis and planning, OS,Introductions to Information and Communications
PMI : PMP
Special lectures on IT practice
On and off-line special lectures to enhance practical ability with the latest information
Invite IT professionals for on/off line special lectures held each semester
Online special lectures allow students to attend lectures before registering.
Faculty with theoretical backgrounds and practical experience
Faculty with expertise in IT practices
In case of courses engaged with international licenses, lectures are provided by certified instructors from the relevant company.
80% of faculty members have doctor's degrees or more than 10 years of experience in IT fields.
Courses reflecting the latest technical trends
Courses for developing smartphone applications (Android / iPhone)
Courses for Oracle OCA / OCP
Courses for Cloud computing and big data processing